Instruments and equipment used by the LSA
Shimadzu UV 3600 Spectrophotometer

The equipment is used to measure the reflectance curves of textile materials, ie. the dependence of the spectral remission degree measured with a spectrophotometer at a wavelength in the visible and near infra-red radiation. Remission curves are mainly used in the military sector. It is also used to measure the colour and fabric colour difference determination for camouflage purposes, as well as for the non-military sector.
909 - Maxi-Martindale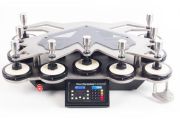 The machine is used for determining the resistance of fabrics to abrasion and to detect the tendency of fabrics to surface fuzzing and to pilling. The resistance to abrasion of areal textiles is determined by using the test range of revolutions to achieve damage in the samples. Principle of the test is that a circular sample, fastened in the sample holder is exposed to fixed pressure and is exposed to abrasion by means of progressive movement, which tracks the Lissajous curve. Fuzzing and pilling is visually evaluated upon defined stages of the abrasion test. The principle of the test is that the circular test sample under a specified pressure moves along the friction surface made up of the same fabric or, if appropriate, woollen abrasion textile and the Lissajous curve is monitored at a specified pressure.
Water column

This device is used to determine the resistance to water penetration - Hydrostatic pressure test. Resistance of areal fabrics to water penetration is expressed as the height of the water column, which the fabric is able to withstand. An increasing water pressure acts on one side of the sample under normal air pressure until of the sample leaks water at three points. The pressure at which water penetrates the areal textile at the third place is recorded. The test result directly expresses the resistance of products made from areal fabrics to short or medium-time water pressure.
Permeability
The equipment is used to detect the permeability of fabrics. The essence of the test is that the speed of air flow passing perpendicularly through the surface of the areal textile is measured at a specified pressure drop.
© 2021 INTERCOLOR a.s.